The SNES Podcast Bonus Episode -- Shodai Nekketsu Kouha Kunio-Kun
1 month ago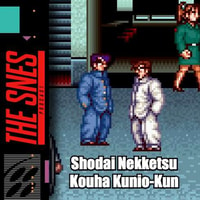 Episode Notes
In this special bonus episode of the SNES Podcast, Joe is joined by George as they discuss Shodai Nekketsu Kouha Kunio-Kun! This Japanese only game is a sequel to River City Ransom on the NES, and plays much the same way. Tune in to hear the guys talk about and tear into this game!
Any questions, comments, etc can be left on our FB page or e-mailed to [email protected] and as always thanks for your support!
The SNES Podcast is proud to be part of the Geekade network! Please check out their fantastic gaming and non gaming related podcasts at geekade.com.  Also check out their Patreon at https://www.patreon.com/geekade
We also have recently switched over from Libsyn to Pinecast! If you've been using a RSS feed or podcatcher, please update to: https://pinecast.com/feed/the-snes-podcast Our new website is: https://the-snes-podcast.pinecast.co/ Libsyn page and links will stay up until December 1st 2022
Find out more at https://the-snes-podcast.pinecast.co
This podcast is powered by Pinecast.